Tuesday March 21, 2023 @06:00 PM
Perry's Steakhouse & Grille
9730 Cypresswood Drive
Houston, TX 77070
De-Risk Your Retirement
Dinner Event
March 21, 2023 @06:00 PM | Perry's Steakhouse & Grille
9730 Cypresswood Drive
Houston, TX 77070
With the government frequently changing the rules of the game, investments and estate planning should be reviewed often to ensure that investments remain tax‑efficient and that estate planning documents are designed to minimize taxes and accurately reflect your intentions.
What are the damaging impact of Taxes?
What are the risks with the current market and our Economy?
How you can help Reduce your tax burden during the golden years.
How to address the rising inflation and interest rates.
What you can do now help protect yourself from unnecessary Risks.
How to potentially maximize Social Security benefits and how to potentially minimize taxes on them.
Admission is FREE and dinner is on us, but space is limited! Plan for your retirement and build a future you love.

Join Oscar Mondragon, Founder & President of Centric Wealth, as he leads a seminar covering various topics of Retirement. Click on link the to register for the event or contact our office to learn more.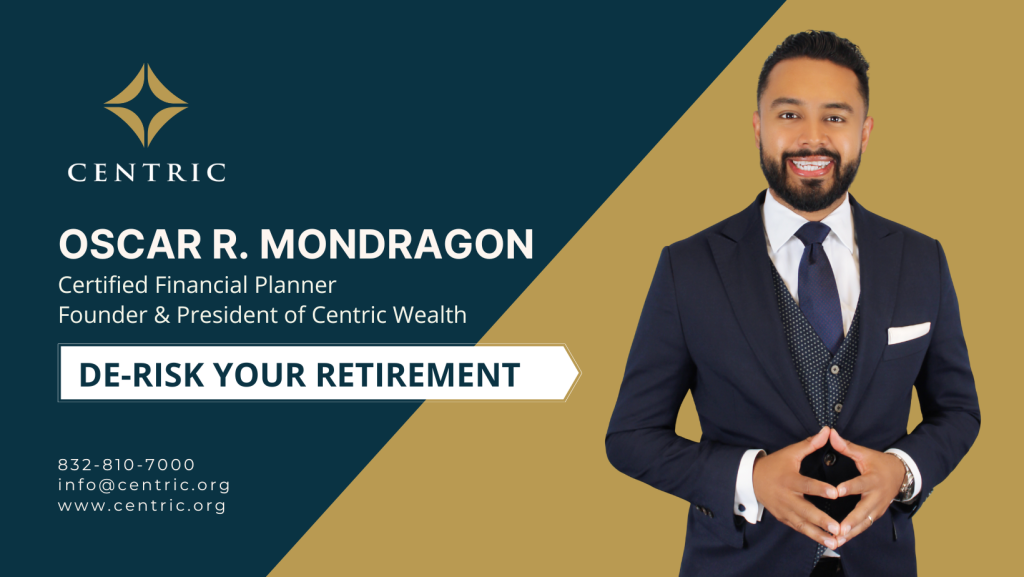 SEATING IS LIMITED
DINNER WILL BE PROVIDED