by Richard Cull
May Market Recap & Commentary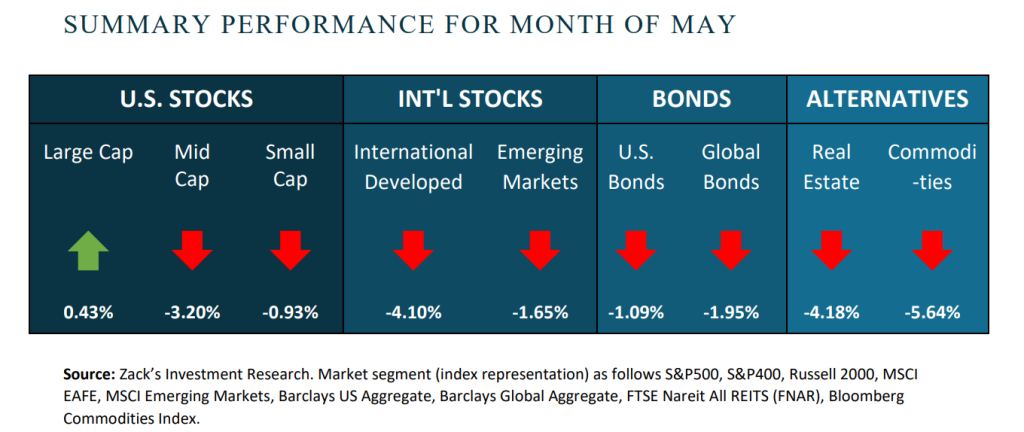 Commentary
May was another month of calm in the financial markets as evidenced by the lowest trading volume of the year. Returns were negative for every single asset class except for large-cap tech stocks (NASDAQ Index).
Five months into the calendar year, there continues to be several large uncertainties including the looming debt ceiling, the problematic bank stresses and the ongoing Federal Reserve's tightening posture. The markets seemed to look past these macro concerns and instead focus on the micro…corporate earnings.
Reported in late April and throughout May, earnings for the 2023 first quarter were down – 3.7% compared to the same period in 2022. This marks two straight quarters of negative earnings growth and five consecutive quarters of profit margin compression. The reports and commentaries from companies were inconsistent within and across sectors. Some retailers (Wal-Mart) saw continued sales growth while others (Dollar General, Advanced Auto Parts) reported unexpected weakness. Likewise in the tech industry with Dell reporting higher earnings while HP disclosed dismal sales and profits.
The two largest factors in these corporate earnings are cost control and consumer demand. The supply chain bottlenecks that manifested during the pandemic were and continue to be a challenge for companies profit margins (cost control). They have been able to raise prices but not fully offset their higher costs…hence the five consecutive quarters of margin compression. This will become a non-factor as supply issues dissipate and inflation falls.
Consumer demand is much harder (huge understatement) to forecast. During the latter part of the pandemic, consumer demand was extremely high for goods (RV's, big screen TV's, exercise bikes, etc.) as people made the best of stay-at-home/ work-from-home. That demand has fallen dramatically as seen by the results from Zoom, Peloton, etc. The current wave of demand is based on getting out of the house…air travel, hotels, dining out, etc. Rapidly rising prices (inflation) have not deterred these behaviors.
As we highlight often at Centric, consumer spending is a product of consumer sentiment…if people are confident, they will spend money. This is especially true for Americans who, by and large, prefer spending to saving. And the pillar of American consumer sentiment is gainful employment. More simply put, if Americans have jobs, they spend money!
So jobs numbers, released the first Friday of each month, are a very important tool in anticipating consumer sentiment and consumer spending. During the month of May, economists expected hiring to remain solid (190K new jobs) but the actual jobs created were far greater (339K new jobs), again showing the resilience of the economy to higher prices and higher interest rates.
All of these cross currents are part of the economic cycle and fundamentals of investing. While the financial media like to label this confusing data "unprecedent," decades of experience and our long-term approach to investing allows us to see the larger picture. Economic cycles still exist…they mutate/ evolve…they are often not pretty…they are necessary for growth and efficiency…but they are never identical.
"History (economic cycle) never repeats itself, but it does often rhyme." Mark Twain
Risk Numbers
The Risk Number is at the heart of a sophisticated set of tools to precisely measure the appetite and capacity for risk that each client has, and demonstrate their alignment with the portfolios built for them. The following graphic shows the risk of various asset classes as measured on a scale of 1-99 (1 being the most conservative and 99 being the most aggressive) as of the date above.

CENTRIC'S Approach
We start with a Risk Number, a measurable way to pinpoint how much risk you want, need, and already have. Then, your wealth advisor will optimally allocate our investments to help you reach your financial goals. Along the way, you will receive transparency of information, seamless proactive service and the trust and accountability you need to stay on track. All of this will lead to your personal comprehensive investment strategy that is powerful, disciplined, responsive. 
---
Sources:
Centric's Market Assumption Disclosures: This information is not intended as a recommendation to invest in any particular asset class or strategy or product or as a promise of future performance. Note that these asset class assumptions are passive, and do not consider the impact of active management. All estimates in this document are in US dollar terms unless noted otherwise. Given the complex risk-reward trade-offs involved, we advise clients to rely on their own judgment as well as quantitative optimization approaches in setting strategic allocations to all the asset classes and strategies. References to future returns are not promises or even estimates of actual returns a client portfolio may achieve. Assumptions, opinions and estimates are provided for illustrative purposes only. They should not be relied upon as recommendations to buy or sell securities. Forecasts of financial market trends that are based on current market conditions constitute our judgment and are subject to change without notice. We believe the information provided here is reliable, but do not warrant its accuracy or completeness. If the reader chooses to rely on the information, it is at its own risk. This material has been prepared for information purposes only and is not intended to provide, and should not be relied on for, accounting, legal, or tax advice. The outputs of the assumptions are provided for illustration purposes only and are subject to significant limitations. "Expected" return estimates are subject to uncertainty and error. Expected returns for each asset class can be conditional on economic scenarios; in the event a particular scenario comes to pass, actual returns could be significantly higher or lower than forecasted. Because of the inherent limitations of all models, potential investors should not rely exclusively on the model when making an investment decision. The model cannot account for the impact that economic, market, and other factors may have on the implementation and ongoing management of an actual investment portfolio. Unlike actual portfolio outcomes, the model outcomes do not reflect actual trading, liquidity constraints, fees, expenses, taxes and other factors that could impact future returns. Asset allocation/diversification does not guarantee investment returns and does not eliminate the risk of loss.
Index Disclosures: Index returns are for illustrative purposes only and do not represent any actual fund performance. Index performance returns do not reflect any management fees, transaction costs or expenses. Indices are unmanaged and one cannot invest directly in an index.
Riskalyze Disclosure: The Risk Number® is a proprietary scaled index developed by Riskalyze to reflect risk for both advisors and their clients. The Risk Number is at the heart of a sophisticated set of tools to precisely measure the appetite and capacity for risk that each client has, and demonstrate their alignment with the portfolios built for them.
Shaped like a speed limit sign, the Risk Number gives advisors and investors a common language to use when setting expectations, recognizing risk and making portfolio selections. Just like driving faster increases hazards, a higher Risk Number equates with higher levels of risk.
General disclosure: This material is intended for information purposes only, and does not constitute investment advice, a recommendation or an offer or solicitation to purchase or sell any securities to any person in any jurisdiction in which an offer, solicitation, purchase or sale would be unlawful under the securities laws of such jurisdiction. Reliance upon information in this material is at the sole discretion of the reader. Investing involves risks.
Get in Touch
Ready to take control of your finances and enjoy more of what matters in your life?